You currently viewing: About-us
About-us
Why to choose our school?
1. In Olomouc region we are the only secondary school wholly concentrated on tourism.
2. We have a long-lasting tradition – our school has been in existence since 1992.
3. Our students get their practical experience in travel agencies, hotels, tourist information offices, castles, or other places of historical interest.
4. Students of age may go through their coherent practice abroad (hotels in Halkidiki, Greece, Croatia).
5. We started the first phase of an international grant project with a secondary school of tourism in Zell am Ziellet, Austria, last school year.
6. Our school organises trips and excursions within the whole Czech Republic and abroad. These are partly financed by school, partly by students.
7. Students may get scholarship.
8. Textbooks are lent for free (except the language ones).
9. School pays for some activities totally (adaptive course in the first year, third year excursion to Vienna, including the insurance, fourth year excursion to Prague, graduation ball), or it supports some activities (dancing lessons, skiing training course, excursions, talks, cultural activities at school,...)
10. We are preparing lessons of some subjects taught by a native speaker or taught in a foreign language.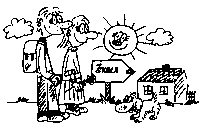 "Little in size, large in spirit."
It is possible to paraphrase one famous motto which symbolizes the atmosphere of our school, our plans, targets, ambitions. We are school concentrated on tourism – a great demanded and still developing branch today. We are conscious of the fact that theory is grey and the tree of life is green, so we do not underestimate connection of learning and getting some experience. Thus our students have the opportunity to try what it really is to work with people and for people. During their compulsory lessons of practical experience they meet various branches and activities in tourism. Thanks to that their decision what to do after their successful passing of maturita will not be so pressing. Students also get their general knowledge, which is so important, during various excursions and trips behind the borders of our country and usual days, to the sphere of culture and art as well.
May our students be one of those at university and lecture halls, or they decide straight for the way of practice, they are successful and we meet them with pleasure because we believe their personal and social develop happened also thanks to our help. We do realize that ethic behaviour and manners are more than important not only in the studied branch, but also in the life itself. Komenský supported teaching by the example and owing to the chamber number of our teaching staff we emphasize narrow bound and contact of students and the teachers, we build on individual attitude to our students.
We are school gates of which are left by young people with clear judgement, grasp of life and the ability to manage in a difficult competitive fight. Our students can show their knowledge in the fields of specialized subjects such as tourism, economics, management, geography, history and above all foreign languages – teaching of which is key and fundamental.
"It does not depend on the quantity, but the quality."
---
Actions:

---
Files: